The Burns Gold Dream model has the following features, including the new Rez-o-Matik® Noiseless ENR pickups.
Body and matching neck in gold metallic
Ebony Fingerboard with tortoise edge binding
22 frets
Gold Hardware
Locking machine heads
Gold effect pick-guards
Rez-o-Matik noiseless ENR pickups
Push pull pickup selector
5 way selector switch
Master volume
3 x tone controls
Locking strap nuts
Fitted case
Certificate of authenticity
All Burns products are sold with a limited 1 year warranty.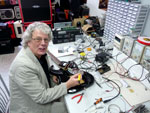 This new ENR Noiseless Rez-o-Matik® pickup is now fitted to the new Apache Special and Dream Noiseless models®
"Achieving a true single coil sound such as our standard Rezomatik in a noiseless format is not simply achieved by making a stack coil pickup. Most noiseless "single" coils use two coils of the same dimensions mounted vertically in a single coil cover, the problem however with this idea is that the top coil is considerably smaller than a standard size single coil, thus to achieve the same level of output as a single it must be wound with a much finer guage of winding wire than one normaly uses on a single coil and this unfortunatly changes the overall sound and dynamics of the pickup considerably, the true "glassy" transparency of a single coil is lost. What we have done at Burns and Entwistle Elecronics is to take a full standard size Rezomatik single coil using exactly the same type of Alnico 5 magnets, and winding wire guage and then apply ENR (Entwistle Noise Reduction) technology to this by means of a specially wound smaller canceller coil that sits directly beneath the original Rezomatik single. The result is a true Vintage Rezomatik sound without all the noise!"
Alan Entwistle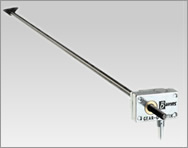 Burns® Gear-o-Matik™ Gearbox
This Burns gearbox was first designed by Jim Burns in 1960 to allow fine neck setting. Coupled to the steel truss rod tensioned through the neck to a gearbox with a hefty cog and worm which provides micro adjustment.


+ CLICK TO ENLARGE