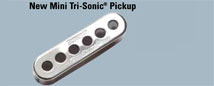 MINI TRI-SONIC® PICKUP
For many years Guitar players have expressed the need to obtain the Classic Tri-Sonic sound from their traditional style double-cut guitars, without the necessity of having to carve larger cavities in the instrument bodies or alter the pick guards/scratch plates to accommodate the larger original units.
By carefully engineering and condensing the original internals and easing them inside a narrower Tri-sonic casing, guitarists can now enjoy the thick, ringing mids and smooth sustain of the classic 60s Tri-sonic, whilst still having access to traditional single coil sounds and warm humbucking tones - all in one instrument!
Adrian Turner of Adeson Pickups
Adrian Turner is a top guitar and guitar pickup designer in the UK and is a qualified technical engineer.
He is also a specialist in repairing old vintage pickups using original materials where possible.
Since 2009 Adrian has become a major part of the Burns design team and has already contributed by designing the new Mini Tri-Sonic pickup as well as improving the sound of the Rez-o-Matik pickups as used on the Re-issue Hank Marvin and Bison 64 series Guitars.