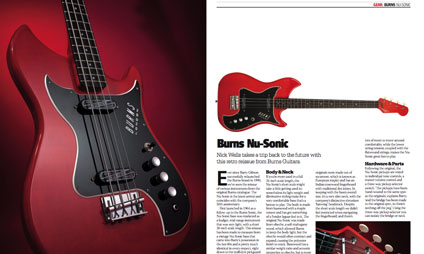 Burns Nu-Sonic
Nick Wells of Bass Guitar Magazine takes a trip back to the future with this retro reissue from Burns Guitars
Ever since Barry Gibson successfully relaunched the Burns brand in 1990, we've seen the reissue of various instruments from the original Burns catalogue. The Nu-Sonic is the latest arrival and coincides with the company's 50th anniversary.
First launched in 1964 as a follow-up to the Burns Sonic, the Nu-Sonic bass was marketed as a budget, mid-range instrument that was very light, with a short 30-inch scale length. This reissue has been made to measure from a vintage Nu-Sonic bass that came into Barry's possession in the late 80s and is pretty much identical in every respect, right down to the traffolyte pickguard and serial number plate. What's more, Barry's vintage bass is thought to be the missing Beatles bass from the Fab Four's 'Paperback Writer' sessions (more on that later). Time for a closer look.
Body & Neck
If you're more used to a full 34-inch scale length, the Nu-Sonic's short scale might take a little getting used to; nonetheless its light weight and diminutive styling make for a very comfortable bass that's a breeze to play. The body is made from basswood with a maple veneer and has got something of a Fender Jaguar feel to it.
The original Nu-Sonic was made from obeche, a soft mahogany wood, which allowed Burns to keep the body light, but the obeche would often contract and expand, causing the polyester finish to crack. Basswood has a similar weight ratio and acoustic properties to obeche, but is more stable and shouldn't cause any damage to the finish. The maple veneer is a nice addition and lends the body a slightly stronger visual aspect beneath the cherryred polyester finish.
The neck is maple (the originals were made out of sycamore, which is known as European maple) and has an Indian rosewood fingerboard with traditional dot inlays. In keeping with the bass's overall size, it's a very slim neck, with the company's distinctive shrunken 'batwing' headstock. Despite the short scale length we didn't feel restricted when navigating the fingerboard, and there's lots of room to move around comfortably, while the lower string tension, coupled with the flatwound strings, makes the Nu-Sonic great fun to play.
Hardware & Parts
Following the original, the Nu-Sonic pickups are wired to individual tone controls, a master volume control and a three-way pickup selector switch. 'The pickups have been hand-wound to the same spec as the originals,' explains Barry, 'and the bridge has been made to the original spec, so there's nothing off the peg.' Using the three-way pickup selector you can isolate the bridge or neck pickup, or select both pickups together. It's a very basic layout, but there's something nice about its simplicity.'
The bridge is a very straightforward, angled design that's without individual saddles but allows for height and intonation adjustment across all four strings simultaneously. Burns seem to have gotten away with sticking to the original blueprint here, as both the set-up and intonation are spot on. Th e shaped headstock features the Burns badge back in its original position (it has been moved on Barry's vintage original) with what look like miniature machine heads which are, in fact, guitar tuners with plastic buttons that add to the bass's retro character.
And like the original, the Nu-Sonic arrives strung with flatwound strings. 'They would have been the black nylons,' says Barry, 'but we found those a little restricting. At least with standard flatwounds you get some of that sound but better intonation.'
Sounds
Plugging in with both pickups selected you are met with a fantastic old-school bass sound that's every 60s record you've ever heard. Both pickups deliver a full and warm tone, the neck pickup is particularly 'boomy', and for a short-scale, lightweight bass there is no lack of output.
The smoothly rounded low end gives you plenty of presence when playing live, and rolling back the tone controls is ideal for pick playing. Th e tone lacks the snap and attack of a long-scale bass but has heaps of vintage appeal. We loved the flatwound strings, which are a lot more forgiving on a short-scale bass.
Roundwound strings can be more 'buzzy' and susceptible to fret noise on a shorter-scale instrument, often due to the lower string tension causing the strings to flap a little on the fretboard. This usually means raising the action, which can take away from the bass's playability. So Burns score full marks here for keeping with the flatwounds. You will need to be a little more accurate with your fretting and intonation, but this only adds to the bass's character.
Conclusion
The Nu-Sonic is a fantastic addition to the Burns bass range, and it's great to see that the company is showing no signs of trying to change or depart from the original Burns designs. It would have been easy for Burns to use a bridge with individual saddles, or add active electronics, but he really didn't need to as the design works so well as it is.
Burns is a retro-based company, and that's what Barry is going to stick with. Elements like the short-scale length, small machine heads and the fl atwound strings lend the Nu-Sonic real vintage character. Construction is of a good standard, and there are some classic tones on offer too.
It's clear that a lot of thought has gone into reinventing this instrument, and at £699, which includes a moulded hard case, leather strap and tool kit, it's offering real value for money.
George Harrison recording at Abbey Road studios in 1966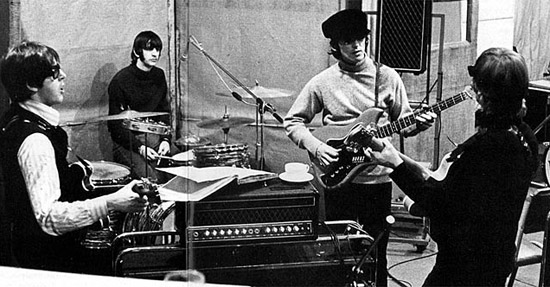 George Harrison recording the track Rain at Abbey Road studios 1966 playing a Burns Nu-Sonic bass which was hired from Burns for the session as George was right handed and couldn't use Pauls left handed basses.