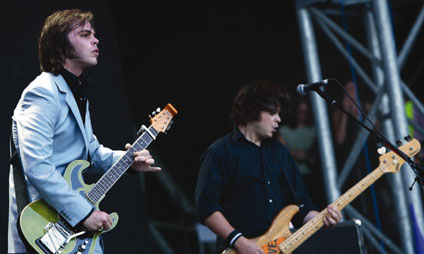 On The Record: Supergrass 'Richard III'
Legendary producer John Cornfield gives Matt Frost the lowdown on Supergrass' menacingly brilliant 1997 riff stomper, 'Richard III'. Oxford indie rock 'n' roll trio (and later four-piece) Supergrass first burst onto the UK music scene back in 1994 when their debut single 'Caught By The Fuzz' caused more than a bit of a stir among those in the know, although it narrowly failed to secure a Top 40 chart placing.
However, follow-up single 'Mansize Rooster' hit number 20 and 1995's 'Lenny' reached number 10, duly paving the way for the band's debut album, I Should Coco, to take the Britpop era by storm, peaking at the summit of the UK album charts. 'Alright', the fifth single to be lifted from the LP, became one of 1995s standout summer anthems — both in the UK and the US — firmly cementing the band in the wider public consciousness.
Over the course of the next 15 years, Supergrass would release a further five superb studio albums before sadly disbanding in 2010. For this month's On The Record, we dig back to 1997 single 'Richard III', taken from the boys' sophomore platter In It For The Money. The track is dominated by a menacing axe riff courtesy of frontman Gaz Coombes, and is wholly characteristic of Supergrass' penchant for fusing hook-driven rock with melodic pop sensibilities.
Bang On The Money
While I Should Coco was produced by Sam Williams, Supergrass chose to get more closely involved in the production process for In It For The Money, although they did enlist Coco engineer John Cornfield as co-producer. The band once again returned to Sawmills Studio, a stunning rural retreat in Cornwall set in a tidal creek on the banks of the River Fowey. Here they recorded off and on for a period of about 12 months.
John Cornfield, whose credits include Muse, New Model Army, Oasis, Robert Plant, the Stone Roses, the Verve and XTC — to name but a few — fondly recalls the creative recording techniques he and the group dabbled with during the album's creation.
"It was absolutely brilliant fun!" he enthuses. "We did it during the summer and sometimes I had stuff set up outside — we built tents out there [to shield the microphones] and recorded. They played outside on the lawn, using the creek ambience and, yeah, we used every trick in the book! It was a shared responsibility really.
"If they thought it was good and I thought it was good, it would go. If I was like 'Oh, hang on, I'm not sure about this,' we'd try something else. It was always very much a co-production. Everybody was sticking in their two pennies' worth. They're all very proactive and they were just really, really productive sessions."
Sketching Ideas
Although Supergrass — singer and guitarist Gaz Coombes, bassist Mick Quinn and drummer Danny Goffey — did have a few rough ideas when they began the In It For The Money sessions, many of the songs were crafted and effectively written in the midst of the studio's beautiful riverside environment.
"They had some sketches, some riffs, various bits and pieces which they then just kind of jammed, and they came in with absolutely no lyrics, which was normal for them," explains John. "They all had ideas of roughly what the songs were about but, when they were running the backing tracks, they would just sing melodies and complete bollocks — no words, as such — and then we'd sit there and try and work the words out from what was sung, get an idea of it and it would slowly develop. It was very much a three-way thing, you know, because if one of them didn't like the lyrics then it wouldn't go."
The same song-writing approach also applied to 'Richard III', which ended up being the only album track to retain its working title. "All the working titles of the tracks were the names of kings," says Cornfield. "We had 'Louis XVI' and all that sort of stuff, but 'Richard III' is actually the only one that stuck as a king's name. And it really was another one they kind of jammed out.
"They had the riff before — I think Gaz came up with it — and then they just went in and jammed around it and eventually knocked it together, got some lyrics on it and maybe a couple more edits here and there...so it was all very much fly-by-wire. But, yeah — it's a great, cracking track with great cross-rhythms going on. Sonically, I struggled a bit with it on the mix with various bits and pieces but, all the same, it just kind of rocked out and it was like, 'Here we go… this is great!"
Less Tracking
In It For The Money was recorded with a 24-track Otari MTR-90 tape machine and a Trident Series 80 console, which is still the main Sawmills board today. Because of the restrictions of recording to tape, John Cornfield believes there are probably less guitar overdubs than you might think running through 'Richard III'.
"I think we tracked the main riff and I think we had a harmony part in there at one point," he explains. "It'd be hard to tell because it was all on 24-track, so we didn't have infinite layering possibilities. It all had to fit within the 23 tracks — because the timecode was on 24 — so everything had to fit in the space.
"Back in those days, you were forced to make decisions because you were on tape. You couldn't just sit there layering ad infinitum, which I think is actually quite healthy and something that's gone by the wayside a bit these days."
Gaz Coombes has used a wide variety of guitars during his career, including a Burns Custom Legend, Fender Telecaster Deluxe and Telecaster Plus, and Gibson ES-335s, Les Pauls and SGs. Unfortunately, Cornfield can't remember exactly what guitar(s) Gaz Coombes played on 'Richard III'.
"I think Gaz had quite a few," he says. "He'd got some Burns guitars, his Tele, his Strat, but I don't think we were using any Gibsons at the point. I think the Goldtop came into it when we did the third album — I don't think we had it during In It For The Money. But he's got millions of the bloody things now! When we did the third album, it was just like, 'Man, how many guitars do you need?'. He was just sort of jumping around from one thing to another. He was always doing that."
Rich Miking
Amp-wise, Gaz could also be found gear-hopping throughout the Sawmills sessions. "Gaz had his old Sound City amp and I think he had a [Fender] DeVille," explains Cornfield. "And we've got a [Fender] Twin here that we were possibly messing around with and a Marshall — an old JCM800, you know, a pure valve one, without any of the busy bits on that they put on them nowadays. You had two inputs and four valves. We've still got it now. Fantastic amp."
Cornfield captured Coombes' axe tone with a combination of a vintage Neumann U87 microphone and a Shure SM57. "Most of the time, we were using a 57 and an 87 and just moving around trying to find the best speakers and the best sweet spot for them, and using the two of them together," John says. "57s always give you the bright edge, whereas you get a lot warmer sound off the 87, so it kind of filled in the bottom end. The two together always just seem to be a good combination."
At the time, Gaz Coombes was also keeping his effects to a minimum. "It was mainly wah-wah [as with the solo on 'Richard III'] and I think it was just a Jim Dunlop Cry Baby if I remember rightly — you know, classic, the real deal. And he had a [ProCo] Rat going quite a bit, from what I remember, but most of it came from the amp and Gaz's riffs really."
A Sharma rotary speaker also occasionally came into play. "We had this old wooden Sharma cab that you can hear on a lot of the organ stuff," says John. "It was a transistor one but it was just so dirty and f**ked that it sounded brilliant, so that got on there on a few guitar parts as well."
Bass Beginnings
Initially, Supergrass bassist Mick Quinn began recording with a completely different rig than the one he'd used on the band's debut album I Should Coco, but it wasn't long before John and Mick chose to ditch the new gear.
"During the first album, Mickey had this old Ibanez bass and a Carlsbro transistor amp," recalls Cornfield. "It was a funny little thing with sliders — you'd slide about four or five buttons on it. It was a horrible little thing really, with probably about 20-25 watts on it or something. But that Ibanez and that amp, together with the way Mickey played, was the sound.
"When we started to get into the second album, he had all this SWR gear, I think, and a new bass and one thing and another and I was going, 'It just doesn't sound like you any more, Mickey!'. So he phoned somebody up to go and pick up his old amp that was sitting in a warehouse somewhere, got his little Ibanez bass down and actually used that for most of the album again!"
Still A Fan
Having engineered Supergrass' first chart-topping first LP and co-produced the second, John Cornfield would also go on to co-produce their third, self-titled long player, released in 1999. Cornfield still remains a massive fan of the band, and before they split up earlier this year still rated them as being one of the best live bands out there. He has nothing but the fondest recollections of his time working with them.
"I have memories of all the good times and they just make me smile, to be honest," enthuses John. "The other night, actually, we went up to see Phosphorescent and The National up in Bristol and, as we were driving back, there was a friend of mine in the back that texted in to whoever's on Radio 2 at that time of night — I think it was Janice Long — and he said, 'There's six of us driving back to Cornwall.
"John Cornfield's in the car and can you play him anything by Supergrass?' And she said, 'Well, yeah, here we go then, it's 'Pumping On Your Stereo' [the 1999 single that reached number 11 in the UK] — you should remember this one, John!' And I was, like, 'Yeah!' — I was just really rocking out in the front!"